Marketing
Tracking the effectiveness of your marketing campaigns is key to growing and managing your business. Whether you have one marketing source, or hundreds, ServiceFactor will show you which ones are generating calls and jobs, as well as the revenue generated.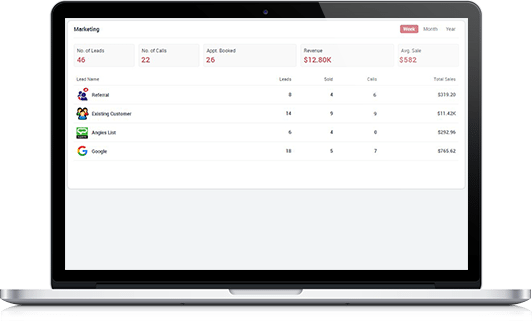 With phone integration, automatically track what marketing campaigns are working for you
Dashboards allow you to instantly view important marketing KPI and ROI
Easily track CSR booking performance
Instantly view Company Sales Metrics
Customer Site Info
Gathering and using customer information is vital to the success of your business. Whether the customer has one site, or hundreds, complete history and profitability will be tracked for each individual site. ServiceFactor gives you the tools to provide your customers a pleasant experience every time they contact you.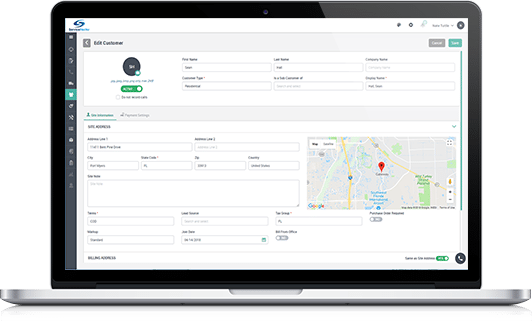 Map instantly shows where the customer is located and automatically assigns the zone where the customer is located.
Unlimited sites can be added to a single customer, even sites within sites.
Easily review site history, open invoices, quoted work and more right from the Customer Center
Instantly see if the customer has any Service Agreements and if you have any impending inspections
Suggested Customers – ServiceFactor will warn you if a customer site already exists, or if there is a similar site to the one you are adding, minimizing the chance of adding the same customer multiple times.
Equipment Tracking
Service Factor makes tracking equipment and warranties a breeze. Each site can have unlimited pieces of equipment, and equipment can be defined as a sub equipment of another piece of equipment. Imagine being able to track warranties for both major units and sub-systems with equal ease and accuracy.
Color coding instantly alerts you to equipment that is near end of life or past the end of life based on age, increasing replacement opportunities.
Track both Parts and Labor warranty, and instantly show if a piece of equipment is under warranty when taking a service call
Re-assign equipment from one customer to another
Equipment can be tracked as a sub-equipment of a master piece of equipment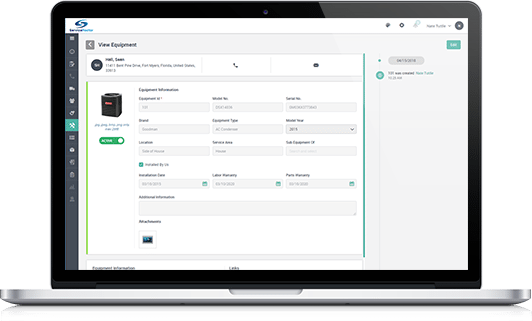 Service Agreements
Service agreements can be a very profitable part of your business and keep your technicians busy during slow times.  With ServiceFactor, managing your service agreements has just gotten easier.  Each site can have an unlimited number of service agreements and the system will automatically generate invoices and inspection slips at predefined intervals.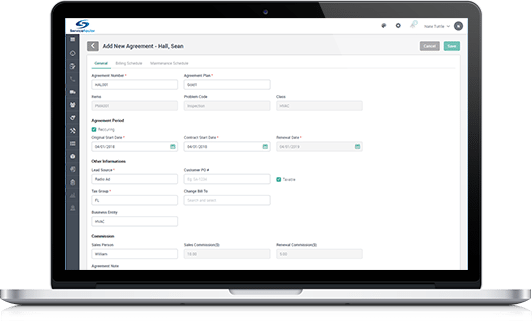 Custom Maintenance schedules can be created, including a specific date of the month, or specific day of the month, such as the 2nd Monday of the selected months.
Handles multi-year contracts
Track deferred income
Extensive dashboards show you detailed contract information to better help you manage service agreements
Easily send scheduled inspection reminders via text, email or phone, saving you countless man hours trying to contact your customers
Multiple service agreements per customer
Automatically create and schedule service agreements
Multiple invoicing options, including the ability to bill from office, automatic credit card billing and billing on inspection.
Custom billing schedules can be created for unique billing situations
Automatically track sales commission based on new agreements and renewed agreements
Service agreements can be set to automatically renew or be recurring indefinitely
Scheduling & Dispatching
Service Factor knows Scheduling & Dispatching, and has been perfecting it for close to 30 years.  With Intelligent Scheduling, Service Factor makes scheduling and dispatching your calls fast and efficient, saving you valuable time and effort.
Intelligent Scheduling and Dispatching
Instantly know the correct technician to send to a call based on the work requested and the technician's skill set
With Service Factors Capacity Planner, you will instantly know when you have availability to schedule a call, making the scheduling process quick and easy.
Color coding based on call priority makes prioritizing calls a breeze.
Color coded zones makes scheduling calls in the same area a snap
Daily, Weekly and Monthly views give the dispatcher the tools they need to effectively and efficiently manage the work load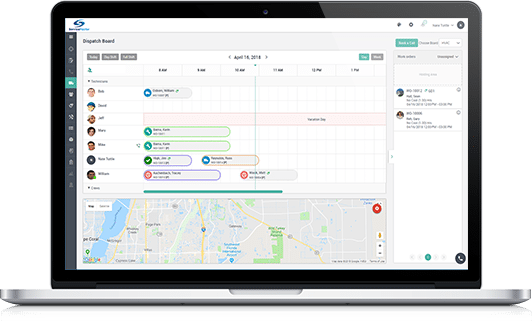 Crew Scheduling
Easily create a "Crew" and assign a single work order to multiple techs in one easy step.
Dispatching a single crew member will automatically dispatch each member of the crew
Mapping
Instantly track your calls on a map to see where your work load is located
View your customer's location right from the customer file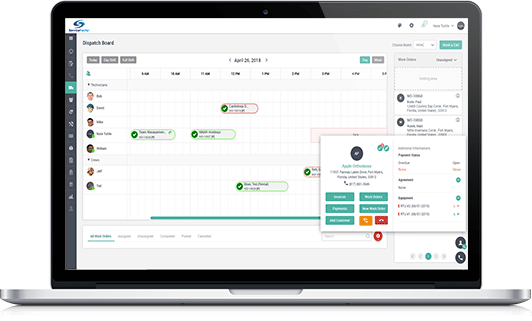 Telephone Integration
Know who is calling and automatically bring up their information with the click of the mouse.
You determine if you want to enter a service call, or access the customer record with the click of a mouse.
Automatically track your lead source based on the incoming call to determine which marketing sources are effective and if they are profitable
Work Order
Taking a service call in ServiceFactor lets you see all of the important information you need to do your job effectively at a glance.  You will instantly see the customer's payment status, if they have a service agreement, and if they have any upcoming inspections, or if you have missed any inspections.   You will also see a list of their equipment, whether it is covered under warranty, and color codes to determine where it is at in its lifecycle.
Lists any overdue and open payments
Instantly see if they have any service agreements and if their inspection slips have been created, or need to be created.
All equipment is listed along with color coding to determine if it has exceeded its life.
Equipment shows warranty status, and indicates if Labor and/or Parts are still under warranty based on the color of the indicator.
Work Order can be instantly accessed based on phone call being answered in Service Factor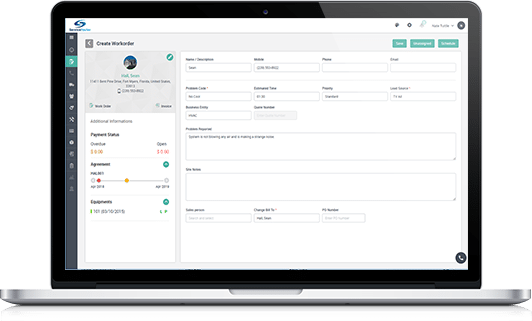 Quotes (Good/Better/Best)
The ServiceFactor quote system gives you a powerful, easy-to-use tool for providing your customers with multi-option quotes, such as a Good, Better, Best quote.  You define the tabs of a quote, making the possibilities endless.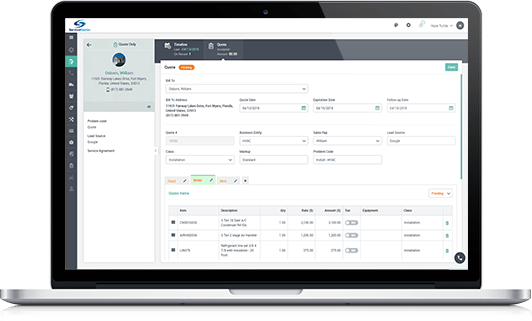 Ability to track Multi-Option quotes, such as Good, Better, Best
Ability to define which option is the Primary option to avoid skewing the total amount of quotes you have out
Quote details will automatically be transferred to invoice when the quote is accepted.
Work order is automatically created when the quote is accepted so you can schedule your technician or crew
Inventory
When it comes to tracking inventory, whether in the main warehouse, a truck, or a warehouse across town – ServiceFactor has it covered.  Inventory is automatically relieved from various warehouses or trucks during the invoicing process and the trucks can be automatically restocked based on optimum quantities.  You can even transfer individual items or the entire stock between warehouses or trucks, making inventory control a snap.
Unlimited inventory locations
Instantly see what items need to be re-ordered, are low of stock or out of stock
View inventory locations and quantity available in each location instantly
Automatic restock based on optimum quantities
Automatic Purchase Order creation based on low stock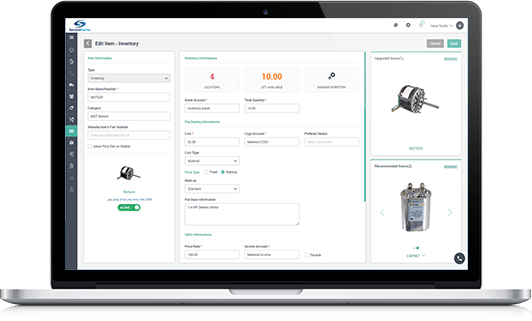 Project Management (Job Cost)
The ServiceFactor Project Management system makes it easy to track costs, income and profitability for projects of any size. Extensive information for every job is maintained including detailed lists of materials and labor required and used for each task of the project. Profitability is computed for both the base contract and any number of change orders. Billing can be based on an overall job price, or broken down into a detailed schedule of values, and billed based on the percentage of completion of the breakdown, including AIA style billing. From large multi-stage projects that require months or years to complete, to small one and two day retrofit projects, ServiceFactor's Project Management module is up to the Task!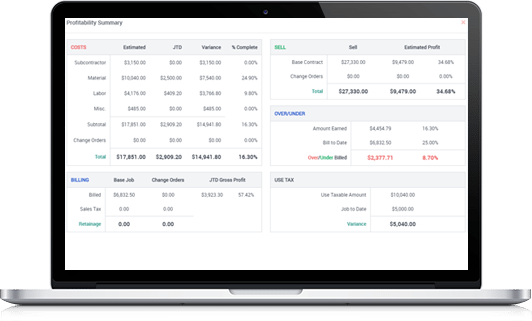 Manage projects of any size or duration
Track detailed estimated costs for each phase of the project
Details Purchase Order tracking per job
Tracks the estimated vs. actual cost comparison for each phase
Profitability is computed based on up-to-date job cost and billings
Billings can be defined based on a Schedule of Values and invoices based on a percentage of work completed
Handles AIA style billing
Tracks retainage
Track material, labor, subcontractor and other costs per phase
Detailed change order tracking
Use tax tracking
Techs can enter their time on jobs remotely
Detailed management reports
Management Reports
ServiceFactor includes a generous assortment of management reports, tailored to analyze invoices, service calls, customer data, equipment information, service contracts and more.  Reports are prepared using a simple filtering process, which summarizes the results of a user's request and report criteria in plain English.  Reports can be pre-viewed on the screen, printed to a printer or saved as a PDF.
Simple to generate reports
Wide range of profitability reports
Ability to export reports
Ability to print filtered lists from various parts of the system, such as customer lists, work order lists, service agreement lists, equipment list, quote lists and more.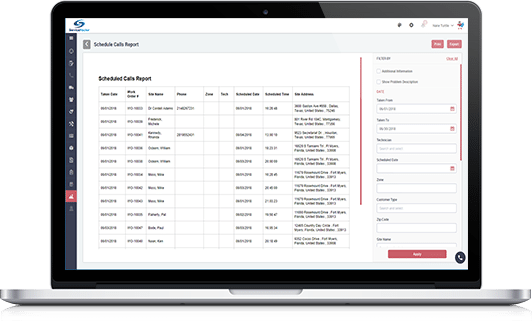 Mobile Computing
ServiceFactor's mobile system guides the technician through all aspects of the call, helping to assure they don't forget anything.  Instead of having to manually enter dispatch times, they simply change their working status, and the system automatically records their travel time and working times, eliminating errors.
Powerful dashboards let your technician see if they are on target for reaching their goals
Technicians can clock in and clock out for the day
Track travel and working times automatically
Time not tracked to a work order will be automatically tracked as "Idle" time if the technician is clocked in
Edit and add equipment from the field
Track work performed by the piece of equipment
Custom forms can be edited based on equipment type for recording equipment readings and can be defined as "must fill", by the form or by the specific reading
Visually find items/material and/or flat rate repairs by categories and pictures of the item/repair
Complete the invoice and collect payment in the field, minimizing work load on the office staff, making them more efficient and allowing them to focus on customers and marketing efforts.
Instantly create quotes in the field for items recommended, but declined by the customer.  Quotes will be tracked back to the office for any that were not approved.
Work orders can be added after hours for emergency service
If given permission, new customers can be added if they do not already exist in your system.